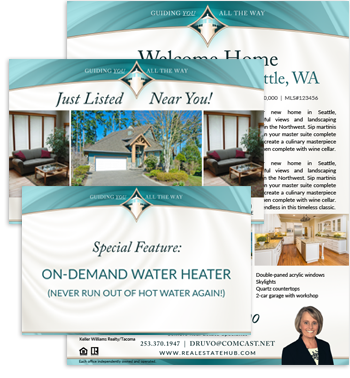 Once your home is as clean and ready for buyers, I roll up my sleeves and get to work! :
Photography – I always have professional photography for the properties I list. Buyers are searching for homes online first (95% of buyers, in fact, search online!) and we want them to be wowed even if they aren't standing on the front porch.
Online Marketing – Between Keller Williams and the MLS here are dozens of websites your listing will be included on – even internationally! REALTOR.com, Zillow, and Redfin are some of the sites you may have heard of and your listing will be on every one of them. I also utilize social media to spread the word and advertise your listing.
Print Marketing – Buyers love to see visuals of your home and have something to take home with them after a visit. I create house flyers, special feature cards that highlight your home's best features, create a home book with a lot of information about your home, and if market time permits, create just listed cards that alert the neighbors and move-up buyers that your home is on the market.

Open Houses – When it makes sense to do so, open houses are a strong part of my marketing strategy for your home!
Broker to Broker Marketing – I make sure each broker in the area can learn about your listing and determine if it is a good fit for their buyers.
Marketing Calendar – And so you can always see what marketing we have coming up, I will create a marketing calendar for you and provide you with a weekly update!

These are just a few of the things I do to market and get your home sold. I am excited to show you your custom plan!