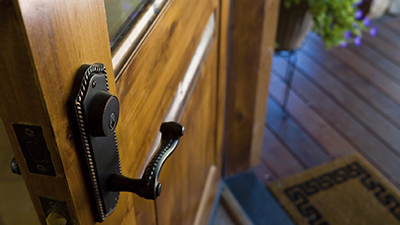 When your house is up for sale, keeping it in a "ready to show" state at all times is important. Yes, it can be inconvenient to always have your home looking spiffy and clean – especially for a family with young children or active pets, but the time and effort invested will almost always result in more money in your pocket!
Although we will work together to create a room-by-room checklist just for you, the list below will help you mentally prepare. Sticking to the plan will make it easier in the long run – and could end up making the "long run" a lot shorter in terms of less time on market!
Curb Appeal
Buyers often will do a drive-by before taking the time to tour a home. If the exterior isn't welcoming and lovely, they may just keep driving. Make sure the lawn is freshly cut and walkways are clear. After a storm, take the time to do the tidying-up required.
Declutter
Make sure that stairs and entryways are clutter-free, and keep closets organized so they look roomy and well organized. Keep personal items and mail out of sight.
Keep the Kitchen Clean
Most potential buyers will spend a lot of time in the kitchen. Make sure floors are not sticky, counters are clean and shiny and clutter-free. Dishes need to be done and the sink clean.
Same Goes for the Bathroom
After the kitchen, bathrooms are the next major area of potential buyers' interest. Make sure all the fixtures sparkle. Are the towels clean and hanging where they should be? Is the bathmat spiffy? Is all laundry stowed in a bin? Is the floor dry?
Keep Odors at Bay
Unpleasant odors are a huge turn-off for buyers. Avoid cooking strong-smelling foods such as fish when your home is listed. Open some windows when you are home to keep the air from smelling stale.
Keep the Bedrooms Spiffy
Are the beds made? Are there decorative items in place, like pillows and pretty throw blankets, to give that cozy feel? Are books and magazines stacked neatly on nightstands? Again, check for wayward laundry or personal items that you may not want others to see.
The Floors
We've already talked about making sure the kitchen floors are clean – and that goes for all the floors throughout the house. Do a quick mop-up of wood or tile floors, and fresh vacuum of carpeted floors and rugs.
Let in the Light!
Open those blinds and shades! If it's a nice day for your showing and your property is secure, by all means open those windows and let the fresh breezes in.
Temperature Check
Don't wait until the last minute to adjust the thermostat. You want your potential buyers to walk into a comfortable environment – and that means not too hot and not too cold.
Go the Extra Mile
Go through each room of the house checking that lights are on and window coverings are open. If there's a gas fireplace for heat and the weather warrants it, turn it on! Those little touches can go a long way into making your house feel like a home.